East Texas' Public Bucks
Like to bowhunt for deer but don't have a lease lined up? These East Texas spots are open to all, and giving one of them a try can well turn out to justify the effort. (August 2006)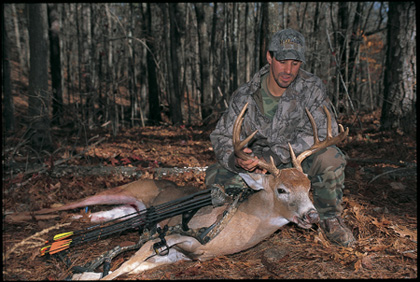 Photo by Ron Sinfelt.
Bowhunters in the Pineywoods of East Texas have it better than just about any other hunters in just about any other region of the state when it comes to access to lightly pressured areas with strong deer populations.
Hundreds of thousands of acres of pine forests and hardwood bottoms lie open to hunters for free or, at most, the cost of the $48 Annual Public Hunting Permit available from any Texas Parks and Wildlife Department license vendor.
"It's a very good deal for hunters, allowing them to gain access to a lot of public land in East Texas," said TPWD biologist Gary Calkins, of Jasper. "Bowhunters in the region can find good hunting within a short drive of just about any of the communities, whether it be Jasper, Beaumont or in the northeast part of the state."
One of the biggest bowhunting pluses for this area: The whitetail rut in the Pineywoods, particularly on the southern end of that ecosystem, begins during archery season.

A TPWD study titled "The Rut In White-Tailed Deer" found that the main rutting activity begins around Oct. 21, with the full peak of the Pineywoods rut hitting in the region's southern half around Nov. 12 and its the northern reaches on about Nov. 22.
"If you don't mind walking back into some of the farther reaches of the management areas and national forest, you will encounter no one most of the time," offered Kevin James of Center. "And when the rut kicks in, you can see a surprising amount of deer; that's when you really see how many deer East Texas has. At times you might question the population, but when the rut starts, any doubts are erased. The best part is you don't have to have an expensive lease to get in on this."
Let's take a look at the most fruitful of these affordable archery-options and find out just what it takes to hunt them.
ANGELINA/DAM B WMA
This scenic area in Jasper and Tyler counties nestles in the fork of the Angelina River, Neches River and the B.A. Steinhagen Reservoir (Dam B). A considerable portion of its 12,636 acres is covered by the reservoir, but about 5,000 acres in the dense hardwood bottoms along the reservoir and river corridor are open to bowhunting.
This area could at any time yield up a massive buck, as much of the bottoms are hard to access, and many of the deer there get a chance to hit their peak. "A deer has to be able to get past the first few years to reach his potential," said Roger Bacon, of Jasper, "and the swamps around Dam B give the bucks some sanctuary that does that for them. It would not surprise me to see a true monster buck come out of there at any time."
Bowhunters should be prepared to walk through deep mud and encounter lots of stinging, biting and otherwise potentially dangerous organisms. Wearing snakeproof boots or chaps would be prudent: These woods have something of a reputation for cottonmouths, copperheads and timber rattlers.
Mosquitoes can also be terrible in the area, and given the persistent threat of West Nile virus, it'd be wise to bring strong mosquito repellant, preferably a variety whose scent mimics natural notes like earth or pine.
Oh -- and be careful of any strange-looking "log" you might see in the sloughs: It could be an alligator. And the ones around Dam B are some of the biggest in the state!
For more information, call Gary Calkins at (409) 384-6894.