The Turkey/Water Connection
You'll be a better gobbler chaser when you understand the relationship between turkeys and the water sources -- or lack of them -- on the property you hunt. (March 2006)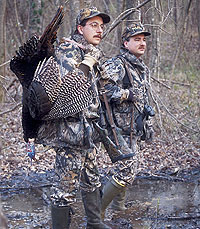 Photo by Jim Casada
I've always considered Gary Sefton, who handles public relations for Woods Wise Calls, one of the most interesting and astute guys in the wonderful world of turkey hunting. The one-time Nashville songwriter has a real way with words and is also a skilled hunter. In addition, he has a CD out featuring songs celebrating the wild turkey that he wrote and sings. Certainly he's a man well worth listening to, not just when it comes to songs but on any aspect of turkey lore.
Years ago, while we were together in a hunt camp, a bull session turned to the subject of the way wary longbeards would hang up on the opposite side of almost any stream, even if it is just a tiny branch.
"You know," Sefton said in his easygoing yet insightful way, "no matter where you hunt turkeys, water always enters into the equation in a big way."

Those words should figure prominently in every turkey hunter's mindset.
Water is an essential aspect of suitable turkey habitat, whether in low country swamplands, stock tanks in arid regions, streams in the high country of the Appalachians, or elsewhere. The big birds' need for water in terms of daily moisture is obvious, but that's only one of many ways it figures in the life cycle of the wild turkey. Water plays a prominent role in many aspects of their behavior, daily habits, and habitat as well. Indeed, an understanding of the interaction of turkeys and water should be an integral part of every hunter's stock in trade. With that thought in mind, we've put together a closer look, a sort of primer if you will, on turkeys and water. We'll also look at how to shape your hunting strategies with water-related factors in mind.
Fairly early in my turkey-hunting career, an established master of the sport with whom I have subsequently spent many a pleasant day in the field, Hunter's Specialties pro staffer Eddie Salter, was kind enough to share some of his wisdom with me. Specifically, as we eased along a game trail paralleling a sizable river, he made a comment that always stuck with me.
We were doing some afternoon scouting along with the hope we might find a vocal tom or at least roost a bird for the following morning. Repeatedly, we found fresh turkey sign and eventually I remarked on the fact. Eddie replied, "Yeah, creeks and rivers are turkey highways, especially in the spring, and it's always a good idea to give them special attention."
HUNTING TURKEY HIGHWAYS
What he meant was that anywhere in turkey country there are waterways -- from tiny rivulets to large rivers -- that will be attractive to the birds. This is true throughout the year but is particularly true in the spring. There are a number of reasons for the magnetic qualities of streams, and understanding them will unquestionably make you a better hunter.
The first and most obvious point is that streams furnish turkeys with water to drink, although in most areas they can also get moisture from other sources, such as springs, mud holes or even dew. Still, in drier regions or during times of prolonged drought, this is a factor that should not be overlooked. Likewise, trees invariably line watercourses, and such places make favored roosting areas. The waterways may support the only vegetation tall enough to be used for roosting in some places, but even in areas where there are mature trees everywhere, turkeys dearly love sleeping over a stream or swamp.