NEW FOR 2005: OPTICS
A first look at the latest riflescopes, spotting scopes and binoculars
There must be a limit to what you can do with glass, but so far people who make riflescopes haven't reached it. Of course, not all that's slated for a 2005 debut is available to report on now, but this preview gives you a first look at the most important shooting optics awaiting launch.
Alpen Outdoor had a hit last year with the introduction of its Apex binocular, with BaK4 prisms, phase-correction coatings and AquaShield (a lens treatment that sheets water from the lens surface). These 8x42 and 10x42 binoculars are now joined by waterproof 8x26 and 10x26 compacts. "They weigh 13.6 ounces and feature fully multicoated lenses with pull-up eyecups," says Alpen's Vickie Gardner. Also new this year is an Apex low-profile 4-16x50 riflescope weighing 21 ounces with a matte finish. It has finger-friendly windage/elevation dials with quarter-minute clicks, a fast-focus eyepiece and an adjustable objective. www.alpenoutdoor.com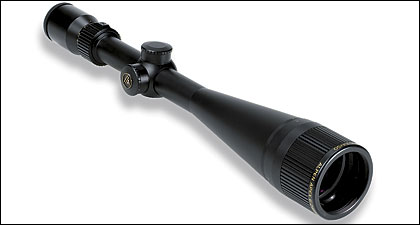 BSA has announced two new riflescope lines. The matte-finish, one-inch Panther series includes four models with fully multicoated lenses, built-in sunshades and finger-adjustable windage/elevation dials. Models include 3-10x40, 2.5-10x44, 6.5-20x44 and 3.5-10x50. Also on the docket are Sweet 17 Mach II riflescopes. "They're designed for rimfire rifles," says BSA's John Schild. "There's a trajectory drum on the elevation dial that's calibrated for the .17 Mach II cartridge." Sweet 17s come in 2-7x32, 3-9x40 and 4-12x40 versions, all with adjustable objectives. www.bsaoptics.com

Burris has announced a series of Short Mag riflescopes with up to five inches of eye relief, including 1x20, 4x20, 2-7x26, 3-9x32 and 4.5-14x32 models. Shorter, lighter rifles look best and handle best with shorter, lighter scopes; the quick, harsh recoil of powerful featherweight guns won't as easily dislodge scopes with less inertia. These scopes feature Ballistic Plex reticles and finger-adjustable, resettable windage/elevation dials. "At the other end of the scope spectrum, we have a new Xtreme Tactical series," says Burris' Pat Beckett. There are eight models--from 1.5-6x40 to 6-24x50--with steel-on-steel resettable adjustments, Ballistic Mil-Dot reticles, side-mounted parallax dials and tube walls that are 25 percent thicker than standard scopes. These scopes also feature super-heavy coil springs on the erector assembly.
Burris has also announced new 8x32 and 10x32 Landmark binoculars at 18.5 ounces. www.burrisoptics.com
Bushnell has a new Elite roof-prism binocular in 8x42 or 10x42 built on a rubber-armored magnesium frame with lenses featuring the company's Rainguard coating. Bushnell's new 7x42 and 10x42 Discoverer binoculars feature BaK 4 prisms and Rainguard.
Bushnell also markets optics under the Browning trademark, including new Mossy Oak camo 8x32 and 10x42 binoculars.
Bushnell also has two new Firefly Elite 4200 models: 1.5-6x36 and 2.5-10x40. And if you shotgun deer or hunt with a handgun, consider the new HOLOsight, which is lighter in weight, lower in profile and less costly than previous models. www.bushnell.com
Carson Optical is offering a new MX-series binocular line, including 8x32, 8x42 and 10x50 variations. These fully multicoated waterproof optics feature BaK-4 prisms, extra-long eye relief and rubber armoring. Weight is 24, 28 and 34 ounces, respectively. www.carson-optical.com
Hunter Wicked Optics has a new line of red-dot sights with multicoated lenses and one-piece tubes. www.huntercompany.com
Kahles has introduced its CSX illumination system on the new 3-12x56 Helia riflescope. Batteries are unobtrusively housed in the turret of this 30mm scope. A battery-saving digital mechanism leaves the reticle in "stand by" mode; touch the dial, and the reticle instantly brightens to a preset level. The reticle is in the second image plane and does not grow or shrink with magnification changes. With a 56mm objective, total weight is under 19 ounces. If you don't need that much power, pick one of three other CSX models: 1.1-4x24, 1.5-6x42 or 2.5-10x50. www.kahles.com
Legacy Sports International imports Nikko-Sterling optics. Three Gold Crown riflescopes are new: 4x32, 4x32 AO and 3-9x42. The 4x32 AO should be great for rimfire riflemen who want to zero out parallax at closer ranges but don't want the bulk or magnification of traditional varmint scopes. All three scopes have multicoated lenses, plex reticles, one-inch tubes and fast-focus eyepieces and come with flip-up scope covers. There are also two new Reflex Red Dot sights; 30mm and 40mm versions have 11 brightness settings, five-MOA dots and integral mounting bases. www.legacysports.com

Leica's newest product is a 32mm (8X and 10X versions) Ultravid binocular built on a magnesium frame with a titanium center shaft. The new binocs feature Leica's High Lux System (43 separate coatings on mirror surfaces), black-rubber armoring, removable twist-up eyecups with click-stop settings and quick-adjusting diopters. The binoculars are waterproof and fogproof with a lifetime warranty. Weight is 18 ounces and 19.1 ounces, respectively. New 8x20 and 10x25 versions are also available. www.leica-camera.com