Pre-Season Conditioning For Hunting Dogs
Has your prized hunting dog spent the off-season munching snacks and curling up on the couch? Now's the time to start getting him (and you) in shape for the coming hunting season.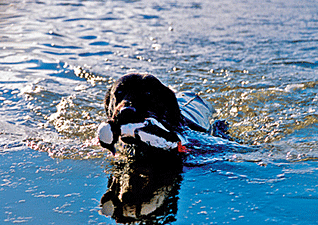 Tim Flanigan
Few things in life are more disappointing than opening the annual small game season with a year's worth of pent-up enthusiasm, but only two hours' worth of dog.
Pushing a fat, unfit "couch hound" suddenly into a marathon hunt amid the briars and brush of bird and rabbit habitat is as foolhardy as it is cruel. Hunting dogs love the chase as much as we do. But when the dog's physical condition doesn't equal his zeal, the quality of the hunt is greatly reduced -- for everyone involved.
I'll admit to years of prejudice against a very popular and stylish bird dog breed. Each hunt with such dogs and their overly proud owners was abbreviated by the early exhaustion of the dogs and their increasingly diminished performance. Two hours of hunting seemed to be the limit of that breed's stamina.

Before one such hunt, the owner of a picture-perfect, calendar-model-quality dog boasted of her exceptional abilities. Unfortunately, the animal's performance failed to reflect his praise.
One hour into the hunt on steep hillsides festooned by brush and vines, the dog refused to retrieve a bird that had fallen uphill of the point. An hour later, the pitifully fatigued dog would simply lie down at the shot and refuse to retrieve. Soon she was moping along behind her chagrined master; her desire to hunt as thoroughly exhausted as his patience.
No amount of yelling by her owner could rejuvenate the spent animal, and his frustration knew no bounds. At the close of the hunt, while I was trying to pose the dog for a photograph with our meager harvest, the exhausted dog collapsed on the birds and fell asleep.
I later learned that the dog spent most of her life in a small outside kennel, with limited exposure to the family and precious little exercise free of confinement. The owner simply shelved this fine animal during the long off-season like a shotgun in his cabinet, ignoring her until next year's hunting season -- a sad but all too common scenario.
THE LESSON LEARNED
Nine months of lounging and pampering with too many snacks, treats and table scraps will turn any Fido into pie dough. An hour into the first hunt of the season, the dog trudges along at the owner's heels with rubbery legs and heaving chest. He flops down at every opportunity to lie panting with his thorn-torn tongue lolling in the leaves.
An unfit dog reflects poorly on its owner. How do you explain this spoiled hunt to your companions? How do you explain it to Prince or Queeny, who sincerely wants to hunt and please you, but is physically unable to perform? If only you'd set aside time for just an evening or two each week during the off-season to exercise and condition him for the rigors of hunting.
There is just one hunting season each year, and we all want to make the best of it. On the other hand, only a fool expects peak performance from a canine hunting companion that's been ignored and relegated to pet status during the preceding months. A lethargic, overweight, out-of-shape dog cannot possibly transform into an athlete on opening day. Worse yet, the stress of sudden exertion may cause severe and lasting injuries. Muscles, tendons and ligaments may be damaged by sudden overuse, and may very well put Rover out of service for several weeks, if not the entire season.