High-Tech Fishing Electronics
With the newest generation of electronics, you can find fish and find your way home.
By Keith Sutton
For several years now, home computer users have been trying to keep pace with the advances in personal computers. Anglers are now facing a similar situation. Do they keep their old model fishfinders and GPS units, or move up to much more advanced options with high-tech features that would have seemed possible only in science-fiction novels just a decade ago?
Color displays are the hottest thing in this year's new fishfinders. No longer do anglers have to wonder what they're seeing below the surface of the water. The newer vivid color displays allow anglers to quickly identify key targets and structure, as well as fish.

Better GPS mapping options also have become standard fare with each passing year, and 2005 is no exception. With a push of a button, you can bring up a display on your fishfinder that you can read much like a paper topo map or road map.
Handheld GPS units also are improving in big ways, and the prices are becoming more and more reasonable each year. Almost anyone can now afford to own a unit that will assist in returning to that favorite fishing hole or in finding the way back to the dock after a day out on an unfamiliar lake.
Here are a few of the 2005 model year introductions that can change the way you fish.
EAGLE

Eagle's new FishStrike Color Big-Screen Recording Sonar units give inland anglers powerful, big-color, big-screen sonar performance, with a GPS + WAAS mapping option. Features include ultra-high resolution and superior target separation that's viewable in all light conditions, including direct sunlight. Plus, you can digitally record and play back sonar graphs and GPS trip details with up to two digital media memory cards, while enjoying higher-detail mapping display from a wide selection of plug-and-play electronic chart options. Four thousand watts of peak-to-peak power allow you to scan depths to 1,000 feet.
Available models include the FishStrike 2000 Sonar and FishStrike 2000 Sonar/GPS (both with a 480Vx640H pixel resolution on a 7-inch diagonal display), and the FishStrike 1000 Sonar and FishStrike 1000 Sonar/GPS (6-inch diagonal, 240Vx320H pixel displays). For more information, call (800-324-1354: www.eaglesonar.com).
GARMIN

With a new pair of marine hand-held GPS units, it will be easier than ever for anglers to navigate their craft and find their favorite fishing spots.
Garmin International's GSMAP 76C and 76CS both feature daylight-visible color displays, 115 MB of internal memory and fast USB connectivity. They contain a 13 MB Americas marine basemap, and are contained in a rugged waterproof housing that floats. The USB connection makes it easy to load charts or maps, and tide data is also included. Major interstates and highways are also shown.
The 76CS model adds an electronic compass, current elevation readings, ascent/descent rate and other features.
Garmin's newst sonar, meanwhile, is the Fishfinder 250C, a powerful unit with a brilliant, high-resolution, 4.5-inch diagonal color display and abundant features. There's also a patented backlight dimming system for comfortable viewing at any time.
In addition to the color version, Garmin is also offering a monochrome version, the Fishfinder 250, which features a 10-level grayscale 320x320-pixel count display. Both color and monochrome versions are available with either a dual-frequency 50/200 kHz transducer for deep-water applications, or a single-frequency 200 kHz transducer for inland lakes and bays.
Both configurations feature Garmin's See-Thru technology, which separates fish from thermoclines and structure, and Depth Control Gain (DCG) for clear and accurate readouts at different depths and speeds. (913-397-8200; www.garmin.com)
HUMMINBIRD

The latest from Humminbird is advanced 3-D sonar technology in two new fishfinder models: the Matrix 47 3D Fishing System and the Humminbird 947c 3D Combo. This new sonar technology measures depth at 11 different points across a 53-degree cone to reveal high resolution side-to-side depth contour. Both 3-D models deliver highly detailed images of fish and bottom structure such as wrecks, dropoffs, channels and creek beds. The bottom image is shaded for easy interpretation and can be rotated to give a remarkable virtual tour of what lies below the surface. Both models also have 2-D capabilities to offer a traditional view of structure and fish.
The compact Matrix 47 3D mounts almost anywhere. Highly detailed images of bottom structure and fish are delivered on a 5-inch diagonal, high-definition (640 vertical pixels x 320 horizontal pixels) screen. Ultra-Black pixel technology and clear edge inverse grayscale are utilized to ensure sharp, distinct images.
The 947c 3D Combo includes GPS chartplotting displayed on a high-resolution (480 vertical pixels x 854 horizontal pixels), 7-inch diagonal color screen. With its own 12-channel GPS receiver, this model utilizes the built-in UniMap software that provides detailed maps (up to four nautical miles) of lakes, rivers and coastal areas of the continental United States. Add-ons available for this fishing system include WeatherSense barometric pressure monitor and Humminbird's SmartCast wireless remote sonar. (334-687-6613; www.humminbird.com)
LOWRANCE

The innovative new Big-Screen Color LCX Hard Drive Sonar/GPS units from Lowrance will offer a rugged, built-in, shock-resistant, 20-gigabyte internal hard drive pre-loaded with all the exquisitely detailed mapping and charts you could ever need for coastal and inland navigation in the continental U.S., including enhanced shorelines, navigation aids, depth contours and over two million points of interest. Displays feature super-high-resolution, sunlight-readable, 256-color SVGA technologies. The units have depth capability to 3,000 feet and way beyond with 50 kHz. Buyers have a choice of a 200 kHz transducer or dual-frequency 50/200 kHz transducer.
Different features are available on the various models, including the new LCX-111, which features 600Vx800H pixel resolution in a 10.4-inch diagonal TFT color display, and the LCX-26, which offers the same features of the LCX-111 in a 7-inch display. (800-324-1356; www.lowrance.com)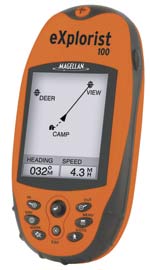 MAGELLAN

Thales Navigation recently introduced the Magellan eXplorist series: three new handheld GPS navigation devices - the eXplorist 100, 200 and 300 - that can help you quickly and easily find that secret fishing hole or navigate back to the boat ramp on a lake or river you're fishing for the first time. Each eXplorist offers all-new Magellan TrueFix technology, which incorporates a superior 14-parallel-channel, WAAS/EGNOS-enabled GPS receiver to provide precise position fixes within three meters and ensure advanced reliability and accuracy in satellite signal acquisition and tracking. One-button access quickly takes users directly to the functions that matter most: the menu, navigation screens, personal points-of-interest storage, "go-to" routing and the backlight. In addition, each eXplorist model stores up to 500 waypoints, 20 routes and multiple track logs with up to 2,000 points each, providing ample storage space even for avid navigators.
Designed for compact, fit-in-your-pocket convenience, eXplorist receivers measure only 4.6x2.1x1.3 inches and weigh less than four ounces, yet they provide a large 2.3-inch diagonal, four-level grayscale LCD display. The zoom capability and amber backlighting ensure optimum viewing even at night. The rugged exterior is wrapped in a rubber-armored, waterproof, impact-resistant casing.
For those who need mapping, the eXplorist 200 adds to the features found in the eXplorist 100 with a built-in North American or European background map and the ability to save up to five track-log files each with up to 2,000 points. The eXplorist 300 adds a trio of advanced tools to the built-in nationwide background map for easier navigation. (www.magellangps.com)
VEXILAR

With the new FL-10 in-dash, Vexilar Marine Electronics introduces more sensitivity into its in-dash sonar.
A brighter LED display makes the unit highly visible in bright daylight, and color is used to help anglers see beneath the surface. Green shows weeds or weak signals, orange indicates the bottom, and the strongest signals are depicted in red. A near-real-time display and the ability to see bottom even in thick weeds will aid anglers.
Also, Vexilar's new AlumaDucer is the first sonar transducer designed to transmit sonar signals through aluminum hulls and is the product of a joint effort between Vexilar and Radarsonics. This will enable boaters who have externally mounted transducers to mount them internally, similar to the installation process in fiberglass boats, with zero signal strength loss. (952-884-5291; www.vexilar.com)
RAY MARINE

New digital fishfinders highlight the 2005 product line for Ray Marine.
The A-Series consists of three color fishfinders that incorporate the company's High DefinitionFish Imaging Technology. The DS400X, along with the 500X and 600X, have 256-color displays and are viewable even in bright sunlight. The A-Series' HDFI technology automatically adjusts to changing water and bottom conditions to create extremely sharp images. There is a 30-day money-back satisfaction guarantee on the A-Series units.
Other products available from Ray Marine include radar, GPS units and chartplotters. (raymarine.com)